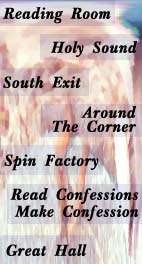 Reading Room
Bits of Ducky Wisdom
Your contributions are welcome. Please write to The First Pope with any of your Ducky insights.

All great minds eventually come to the Duck.
In the beginning was the Duck
And the Duck was in God's presence
Through the Duck, all things came into being
Whatever came to be in him, found life.
The light shines on in the darkness of the pond,
A darkness that cannot overcome the Duck. --James G. McDonald
Life is like a rubber ducky: It's yellow and it floats! --Martyn Symons

To be Duck - you must think Duck.
To think Duck - you must experience Duck.
To experience Duck - you must be at one with the Duck.
To be at one with the Duck - you must be all quacked up.

Quack - Quack - Quack - Quack.

It is better to have been ducked and lost, than never to have been ducked at all. --Frank M.
To be feathered is to be dry.
Ducks do not fear bad surroundings because it rolls off their back.
Ducks are masters of all basic transportation modes.
Ducks can stick their butts in the air and not be embarrassed.
Ducks get only one bill and they are equal opportunity.
If they do not like the weather --- they move !

No pressure , no fuss , life in the sky - in the water - and on land,

Life is all it is quacked up to be.

From: Frank M.
March 26, 1996
To Fly, one must first Swim.
To Swim, one must first Waddle.
To Waddle, one must first Hatch.
To Hatch, one must first be Ducky.

Be Ducky and happy.
--Don Harper
One stale loaf of bread goes a long way.
If a Duck quacks in the forest, of course it makes a sound, silly.
Artwork © 1996 Center For Duck Studies and Jason Truesdell. All rights reserved. Please ask before using these images.
Index to
Jason's
other Pages: