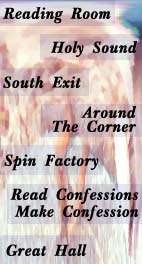 Reading Room
The Duckisutra
One
Tens of Thousands of Quacks, The 7 Priests, and the First Two Popes and all of the Co-Popes, gathered around the Minor Duck Pond to Witness the Greatness of The Sacred Duck.
At this time the Mallards, the Woods, and Fifty-Seven other species of ducks Flew toward the Pond, making the Holy Sound that Ducks Make when They Hit Water.
And the sky was filled with Diamonds, Emeralds, and priceless jewels, and the Thousand Ducky Lily-pads were blooming. And the Thousands of Quacks knew that the Time was coming, and the Priests made the sounds of the Duck, and the Popes suggested kindly to the crowd to prepare for the arrival of the Great Duck.
Two
Know, Mallardputra, the Duck is the way, the Great Webbed-Foot, the Fully Ducky One.
Index to
Jason's
other Pages: